This past weekend, Saturday evening to be exact, I'm sitting at home watching the Stooges episodes I've seen ten times over, and I decide to catch up on some of my more overwhelming email accounts. The account I start with is subscribed to the Cook County IL Mailing List (located by visiting the awesome Cook County, Illinois USGenWeb). I barely made it through the first email, which announced that FamilySearch.org recently added a collection of Chicago Catholic Church records. WHAT an absolute GOLD MINE!!! If you haven't had a chance to view them yet, you can do so here. Currently they are images only, but I didn't let that stop me. So far I've found 30 relevant records but most importantly – I found a new branch of the Wisniewski tree. 😀
My great-grandfather Jozef Wisniewski had 4 siblings I'm aware of so far. The youngest, Kazmiera Wisniewski Jachowicz, stayed in Poland as best as I can tell. I've found no trace of her here, and her sister Veronica's obituary states "fond sister of Kazmiera Jachowicz in Poland." The oldest sibling, Weronika (Veronica) Wisniewski Grzegorczyk Pechman settled in Chicago not far from her brother. The lone other sibling I had only seen once – listed in the 1910 census living with his sister, next door to his brother: (click to view full-screen)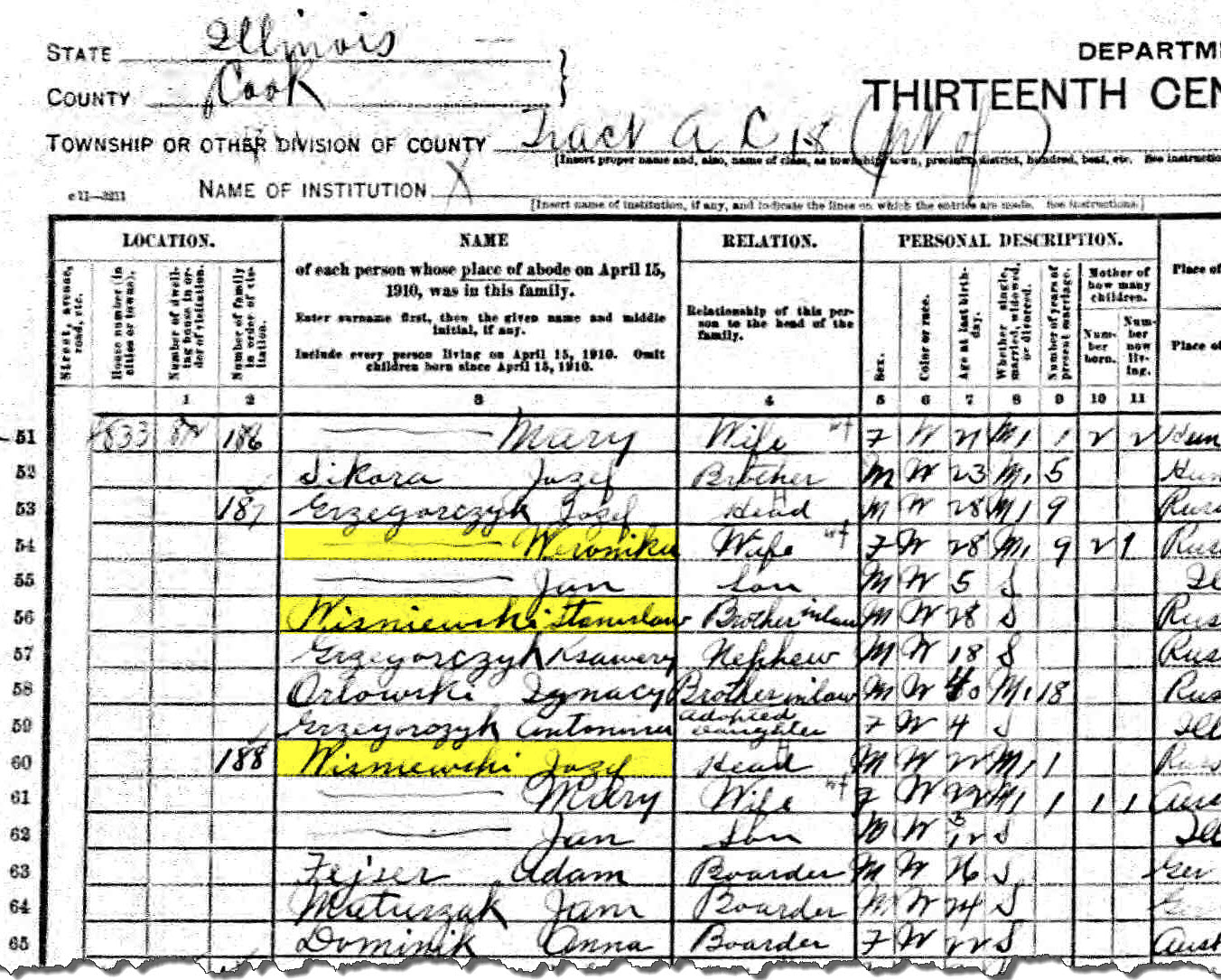 You can see Weronika, brother Stanislaw, and brother Jozef. As you can imagine, Wisniewski is a pretty common surname. Stanislaw is a common polish name as well. Tried as I might, I couldn't find anything that connected the Stanislaw Wisniewski's I found to my family. For all I knew – maybe he went back to Poland. I put him aside and worked on other things.
Then came the church records! I was so excited to see he was a witness to the 1909 marriage of my great-grandparents Jozef Wisniewski and Maryanna Kwasniewska. (click to view full-screen)

I further discovered that Stanislaw Wisniewski was the godfather of my great Uncle Frank, and that he made his brother Jozef godfather of his son Thaddeus. Weronika was made godmother to Jozef's son Jan (John), and to Stanislaw's daughter Adela. Discovering these family ties means a lot – it sounds corny, but it was actually heartwarming to see.
The more kids I found baptismal records for, the more excited I got – that is, until I hit a wall. So far I know Stanislaw Wisniewski & Helen Malanowska had 5 kids:
Thaddeus, b. 20 Dec 1911
Adela Victoria, b. 23 Dec 1912
Mieczyslaw Walenty, b. 03 Apr 1914
Boleslaus Philip, b. 26 May 1916
Edward, b. 25 Aug 1916
I found limited information on these 5, but if my sources pan out correctly, it would appear that there are 8 MORE children in this family.
Stay tuned, as I explore this new branch of the Wisniewski line in search of living ancestors to contact!